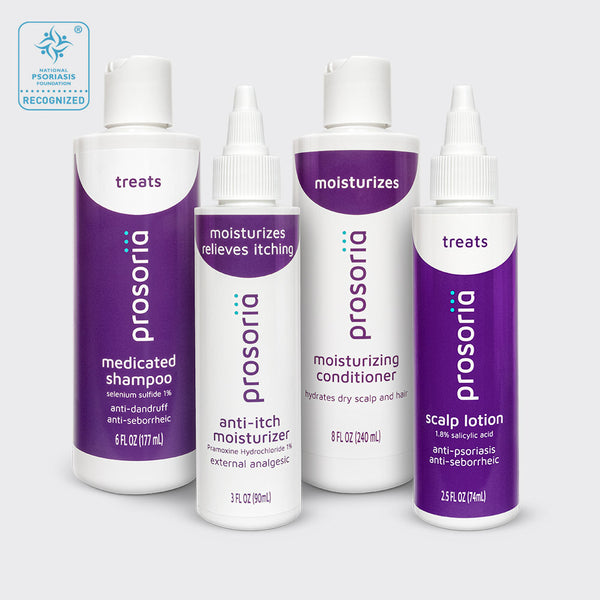 See Real Benefits
Effectively Controls Symptoms
Maximum Results
Natural Botanicals
All-in-one Kit
Steroid-Free
Prosoria™ Medicated Shampoo
Active Ingredient: Selenium sulfide 1%
Ingredients: Aloe Barbadensis Leaf Extract, Butylated Hydroxytoluene, Cetyl Alcohol, Cocamidopropyl Betaine, Disodium EDTA, D&C YELLOW 10, FD&C RED 40, Guar Hydroxypropyltrimonium Chloride, Panthenol, Phenoxyethanol, Propylene Glycol, Water, Sodium Laureth Sulfate, Stearyl Alcohol, Tocopheryl Acetate, Xanthan Gum.
Prosoria™ Moisturizing Conditioner
Ingredients: Water, Cetyl Alcohol, Cocos Nucifera (Coconut) Oil, Glycerin, Stearyl Alcohol, Cetrimonium Chloride, PEG-100 Stearate, Phenoxyethanol, Panthenol, Xanthan Gum, Guar Hydroxypropyltrimonium Chloride, Disodium EDTA.
Prosoria™ Scalp Lotion
Active Ingredient: Salicylic acid 1.8%
Ingredients: Water, Petrolatum, Ethoxydiglycol, Oleth-3 Phosphate, Butylene Glycol, Tetrahydrodiferuloylmethane, Polyacrylate Crosspolymer-6, Sodium Hydroxide, Hydroxyethyl Acrylate/Sodium Acryloyldimethyl Taurate Copolymer, Curcuma Longa (Turmeric) Root Extract, Nigella Sativa Seed Oil, Polyisobutene, Cyclodextrin, Undecylenoyl Glycine, Phenoxyethanol, Capryloyl Glycine, Disodium EDTA, PEG-7 Trimethylolpropane Coconut Ether, Tocopheryl Acetate, Citric Acid.
Prosoria™ Anti-Itch Moisturizer
Active Ingredient: Pramoxine HCL 1%
Ingredients: Water, White Petrolatum, Glycerin, PEG-100 Stearate, Glycerl Stearate SE, Stearic Acid, Copaifera Coriacea Resin Oil, Tetrahydrodiferuloymethane, Cetyl Alcohol, Phenoxyethanol, Vitamin E (Tocopheryl acetate), Xanthan Gum, Sodium Citrate, Disodium EDTA
Manage and Control Scalp Symptom
The Prosoria Scalp Treatment System is different from other scalp products. It's a complete scalp treatment system that includes a potent medicated selenium-based shampoo, a moisturizing conditioner and two unique leave-in lotion products with applicator tips for ease of application.
The Medicated Shampoo is an effective treatment when used daily or at least 1-3 times a week. When regularly used the Medicated Shampoo and Moisturizing Conditioner are a great maintenance regimen to help keep scalp symptoms under control.
The leave-in products like the Scalp Treatment Lotion are left on the scalp and work all day and night to tackle scalp symptoms such as flaking, itching, scaling redness and irritation, and are not simply washed off like shampoos. The anti-itch moisturizer works amazingly fast to relieve itching, irritation, and dryness. Stop the scratching that can trigger more psoriasis.
Scientifically Advanced Formulas
The selenium-based Medicated Shampoo is maximum strength to effectively relieve scalp psoriasis symptoms and contains skin and hair loving botanicals and vitamins such as Aloe, Panthenol, and Vitamin E.
The Moisturizing Conditioner is formulated to restore moisture to the scalp and hair while softening, strengthening, and adding body. It contains natural botanical ingredients including Copaiba Oil, Curcumin and Vitamin E.
The Scalp Lotion treatment is a leave-in formula for high potency and contains clinical strength Salicylic Acid plus natural botanicals, antioxidants and vitamins including Turmeric, Curcumin, Black Seed Oil and Vitamin E
The Anti-Itch Moisturizer is a rapid-relief leave-in formula that contains Pramoxine 1% which effectively controls itch and irritation fast. It also contains natural botanicals, antioxidants and vitamins including Copaiba oil, Curcumin and Vitamin E.
View Ingredients