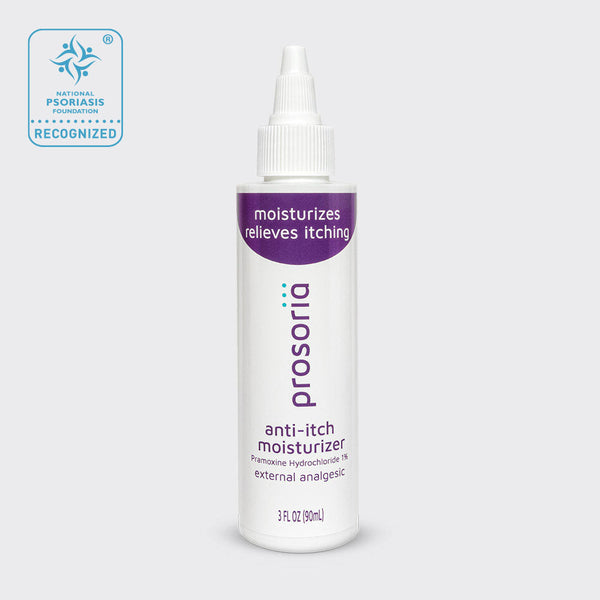 Prosoria Scalp
Anti-Itch Moisturizer
See Reviews
Experience rapid relief of itchy and dry scalp with this powerful Anti-Itch Moisturizer. This unique Anti-Itch Moisturizer helps control itch, irritation, and dryness on scalp or skin. It quickly calms and soothes. You will love its fast action. There is no other product like it.
See Real Benefits
Effectively Controls Symptoms
Rapid Itch Relief
Natural Botanicals
Relieves Dryness
Steroid-Free
Prosoria™ Anti-Itch Moisturizer
Active Ingredient: Pramoxine HCL 1%
Ingredients: Water, White Petrolatum, Glycerin, PEG-100 Stearate, Glycerl Stearate SE, Stearic Acid, Copaifera Coriacea Resin Oil, Tetrahydrodiferuloymethane, Cetyl Alcohol, Phenoxyethanol, Vitamin E (Tocopheryl acetate), Xanthan Gum, Sodium Citrate, Disodium EDTA
Manage and Control Scalp Symptoms
Itching and dryness are often associated with psoriasis. Control itch and dryness and stop scratching. Scratching can trigger psoriasis. We've developed this one-of-a-kind formula to effectively relieve annoying itch or irritation on skin or scalp. Keeping a bottle of this product readily available is essential for the proper care of psoriasis. This formula works fast and can be used as often as necessary. Use with the Scalp Treatment Lotion to keep the skin moisturized daily and to control scratching.
Scientifically Advanced Formula
Prosoria Anti-Itch Moisturizer is designed to rapidly control itching and dryness. This unique formula contains Pramoxine 1% plus effective moisturizing agents to quickly calm itching, dryness and soothe skin. It's chock-full of skin loving antioxidants, botanicals, and vitamins such as, Copaiba Oil, an amazing essential oil from the Amazon, Curcumin, and Vitamin E. A convenient applicator tip is supplied to allow for easy application of the moisturizing lotion directly onto the scalp. Use daily and as often as necessary to relieve itching, skin irritation and dryness. You will love its speedy results.
View Ingredients