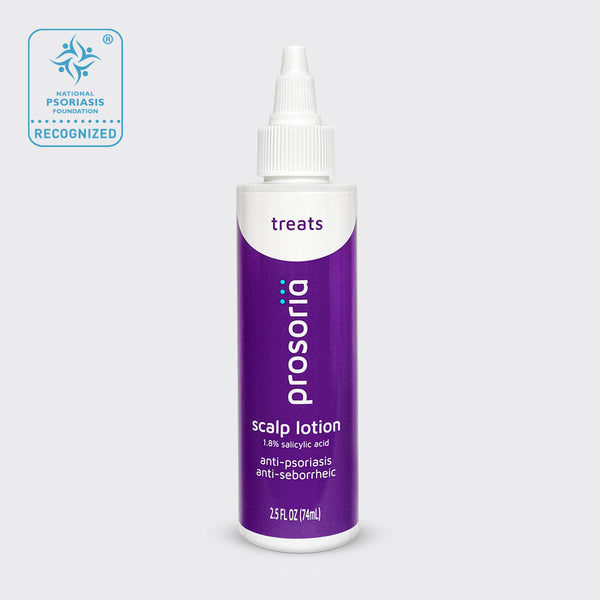 Prosoria Scalp
Scalp Treatment Lotion
See Reviews
This unique leave-in scalp treatment effectively relieves the symptoms of scalp psoriasis. Discover this breakthrough Psoriasis Scalp Treatment Lotion that stays on the scalp for maximum results.  Discover remarkable scalp relief with this unique scalp lotion and experience its amazing results.
See Real Benefits
Effectively Controls Symptoms
Leave-In Potentency
Natural Botanicals
Easy Applicator Tips
Steroid-Free
Prosoria™ Scalp Lotion
Active Ingredient: Salicylic acid 1.8%
Ingredients: Water, Petrolatum, Ethoxydiglycol, Oleth-3 Phosphate, Butylene Glycol, Tetrahydrodiferuloylmethane, Polyacrylate Crosspolymer-6, Sodium Hydroxide, Hydroxyethyl Acrylate/Sodium Acryloyldimethyl Taurate Copolymer, Curcuma Longa (Turmeric) Root Extract, Nigella Sativa Seed Oil, Polyisobutene, Cyclodextrin, Undecylenoyl Glycine, Phenoxyethanol, Capryloyl Glycine, Disodium EDTA, PEG-7 Trimethylolpropane Coconut Ether, Tocopheryl Acetate, Citric Acid.
Manage and Control Scalp Symptoms
Prosoria Scalp Treatment Lotion effectively combats flaking, scaling, itching, redness, and irritation. This one-of-a-kind scalp treatment is designed to be left on the scalp to dry and is not washed off like shampoos. The lotion simply dries on the scalp and continues to work all day and night. A convenient applicator tip is supplied for easy application of the lotion directly onto the scalp. Use with the Anti-Itch Moisturizer to achieve remarkable relief of scalp psoriasis symptoms.
Scientifically Advanced Formula
This unique scalp lotion is applied on the scalp and left in for maximum results. Just apply a couple small drops on the affected areas of the scalp using the applicator tip and massage. It is not washed off like shampoos but is allowed to be left on the scalp to effectively penetrate into the skin and work, relieving tough scalp symptoms. It dries on the scalp without messing up hair. The scalp formulation combines clinical strength salicylic acid plus natural botanicals, antioxidants, and vitamins such as Turmeric, Curcumin, Black Seed Oil and Vitamin E. You will experience the difference of this effective leave-in lotion.
View Ingredients