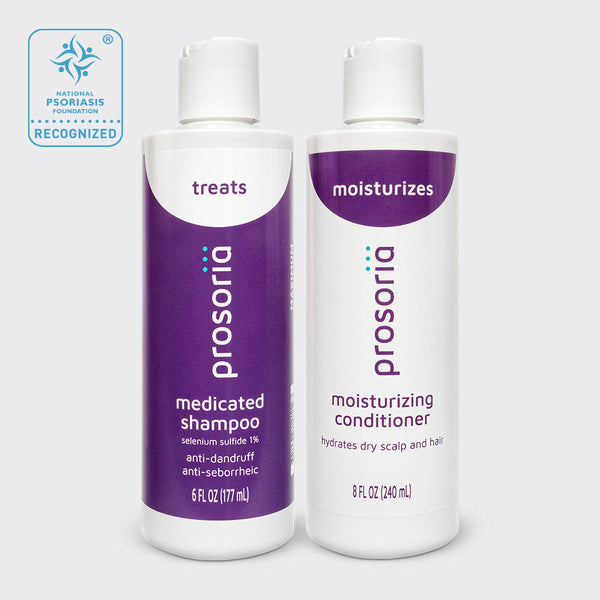 Prosoria Scalp
Shampoo and Conditioner Kit
See Reviews
This kit combines the strength of Prosoria Medicated Shampoo and Prosoria Moisturizing Conditioner to help relieve and prevent dry, itchy, scaling, flaking scalp symptoms while revitalizing and moisturizing the scalp, leaving hair looking soft and beautiful.
The Shampoo and Conditioner Kit includes: Prosoria Medicated ShampooProsoria Moisturizing Conditioner
See Real Benefits
Effectively Controls Symptoms
Cleans and Medicates
Moisturizes
Natural Botanicals
Steroid-Free
Prosoria™ Medicated Shampoo
Active Ingredient: Selenium sulfide 1%
Ingredients: Aloe Barbadensis Leaf Extract, Butylated Hydroxytoluene, Cetyl Alcohol, Cocamidopropyl Betaine, Disodium EDTA, D&C YELLOW 10, FD&C RED 40, Guar Hydroxypropyltrimonium Chloride, Panthenol, Phenoxyethanol, Propylene Glycol, Water, Sodium Laureth Sulfate, Stearyl Alcohol, Tocopheryl Acetate, Xanthan Gum.
Prosoria™ Moisturizing Conditioner
Ingredients: Water, Cetyl Alcohol, Cocos Nucifera (Coconut) Oil, Glycerin, Stearyl Alcohol, Cetrimonium Chloride, PEG-100 Stearate, Phenoxyethanol, Panthenol, Xanthan Gum, Guar Hydroxypropyltrimonium Chloride, Disodium EDTA.
Manage and Control Scalp Symptoms
Relieve and prevent scalp symptoms by routinely using Prosoria Medicated Shampoo and Conditioner Kit. This combo works incredibly well to medicate and restore moisture for long lasting scalp relief. When the Medicated Shampoo is used regularly with the Moisturizing Conditioner, scalp symptoms can be well controlled. Use routinely whenever shampooing is needed.
Scientifically Advanced Formulas
Experience the power of a selenium-based shampoo! Selenium is one of the most potent ingredients that effectively relieves scalp symptoms. This maximum strength selenium-based formula contains skin and hair loving botanicals and vitamins such as Aloe, Panthenol, and Vitamin E. The Medicated Shampoo is made to clean hair without stripping away needed natural scalp and skin oils. It leaves hair clean, soft, and beautiful. The Moisturizing Conditioner hydrates the scalp to relieve dryness and uses botanicals and vitamins to strengthen and revitalize hair.
View Ingredients