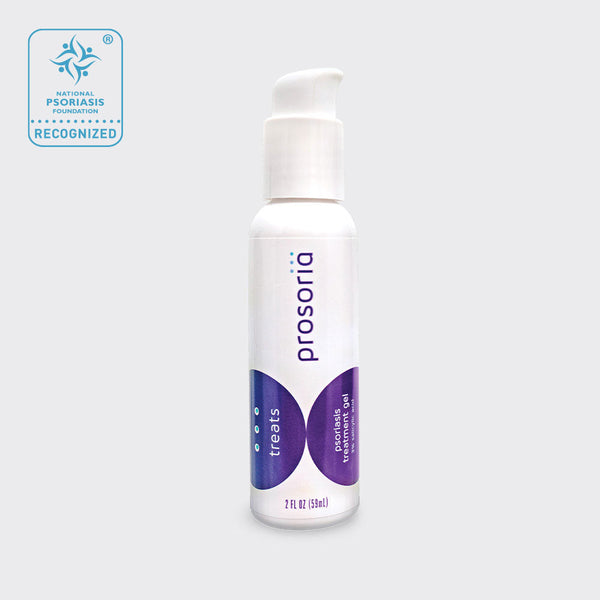 Prosoria Body
Psoriasis Treatment Gel
See Reviews
Start your daily treatment regimen with a powerful psoriasis fighting medicine that penetrates skin quickly to effectively fight psoriasis symptoms. It's a convenient once daily treatment that is non-greasy and spreads easily over large areas.
See Real Benefits
Effectively Controls Symptoms
Non-Greasy, Once Daily
Clinical Strength Relief
Natural Botanicals
Steroid-Free
Nuvothera™ Super-Micronized™ Turmeric Curcumin
Active Ingredient: Turmeric Root Extract (Curcuminoids 25 mg)
Other ingredients: Vegetarian Capsule, Manesium Stearate. Does Not Contain: Sugar, Sait, Yeast, Wheat, Gluten, Corn, Soy, Dairy, Artifical Coloring or Artificial Flavoring.
Manage and Control Psoriasis Symptoms
Prosoria Treatment Gel is an advanced formula that effectively relieves scaling, flaking, itching, irritation, and redness. It can be applied on the body, face, ears, and scalp. The Treatment Gel is easy to apply and dries quickly without leaving any residue. Use together with the
Prosoria Exfoliating and Moisturizing Ointment
for maximum effectiveness and experience the power of combination treatment.
Scientifically Advanced Formula
Prosoria is a major advancement in psoriasis symptom relief. The Treatment Gel is a revolutionary formulation that uses clinical strength ingredients that help control the symptoms of psoriasis and natural botanicals. It contains maximum strength salicylic acid plus skin loving and soothing natural botanicals rich in antioxidants, including turmeric and curcumin.
View Ingredients